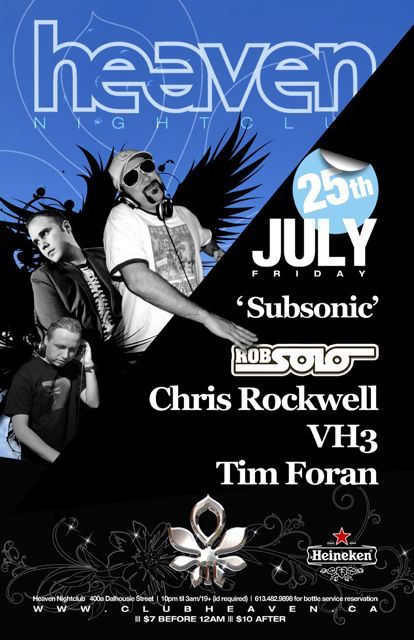 Our good friend Sir Chris of Rockwell has honored our family with a gift in the form of a megamix – 50 tracks in 66 minutes! Last time he did something like this, we ended up with the guilty pleasure that is the HIGHSCHOOLDANCEMEGAMIXTAPE ( Grab it! ) which was packed with 50 of the cheesiest dance tracks from the 90's. And now we have the Soul Selectro promo mix to promote the launch of SoulSelecta.ca! As he tells it, this mix was meant to be a collection of his favorite tracks from the last year or so. These numbers are his bread-n-butter at his Friday and Saturday night gig at Cornerstone in Ottawa's Byward Market. A fun, vocal, and very accessible mix, this one will feel right at home on your summertime playlist and quite a few of these tracks are staples for the SoulSelecta dancefloor. Unlike conventional mixtapes, this one weaves through tracks quickly with 4 songs going at once at times and will definitely require a second and third listen. So whip up some sangria, wipe down those patio chairs, get your bikinis on, and turn this one up!
Chris Rockwell – SOUL SELECTRO (July 2008)
1. Midnight In A Perfect World (Hensforth Remix) – DJ Shadow
2. Give It Up – The Goodmen
3. All The Girls – Sammy Bananas
4. Bigger Than Big (Bag Raiders Remix) – Super Mal
5. Thong Song – Sisqo
6. Daytime Hustler – Bette Midler
7. I Like It Raw – Rico Tubbs
8. Busta Move (Diplo Remix) – Young MC
9. A Milli (Dubbel Dutch Remix) – Lil Wayne
10. Patrick122 (Extended Saxophone Break Edit) – Mr. Oizo
11. Day N' Nite (Old Money Vocal Edit) – Kid Cudi
12. Shake A Fist – Hot Chip
13. Return Of The Mack (LunyP bmore mack mix) – Mark Morrison
14. Creator – Santogold
15. Leader Of The Pack (DJ Kue Remix) – The Shangri-Las
16. Pro Nails (Bag Raiders Remix) – Kid Sister
17. Rip Groove (Tim Deluxe east London re-make) – Double 99
18. Beat It (2005 White Label remix) – Michael Jackson
19. Acceptable In The 80's – Calvin Harris
20. Dance With You (The Twelves Remix) – The Black Kids
21. I'm In Love With You – The Paradise
22. Kids On Vacation (Jacob London remix) – When Saints Go Machine
23. Kids On Vacation (Zombie Disco Squad remix) – When Saints Go Machine
24. Twurk Central – Bird Peterson
25. Harder Better Faster Stronger (acapella) – Daft Punk
26. Strokin' – Dynasty
27. Signatune (Spiller remix) – DJ Mehdi
28. Shadows – Midnight Juggernauts
29. Yes, I Don't Want This – Digitalism
30. En Direct De La Cote (Alavi remix) – Tepr
31. Hearts On Fire – Cut Copy
32. American Boy (Nadastrom remix) – Estelle ft Kanye West
33. American Boy (Stockholm Syndrome club mix) – Estelle ft. Kanye West
34. Nil By Mouth (Knightlife remix) – Bag Raiders
35. Beeper (Detboi remix) – The Count and Sinden ft Kid Sister
36. Beeper (A-Trak remix) – The Count and Sinden ft Kid Sister
37. Shake A Leg (Jokers Of The Scene remix) – Water Lilly & St Plomb
38. Mash Up The Speaker – Hostage
39. Peach – Louis La Roché
40. Streetplayers – Voodoo Chilli
41. You Don't Know Me (GRUM remix) – Armand Van Helden
42. Jump (Dave Dirt remix) – Kriss Kross
43. Cold Hearted Snake (DiscoTech mix) – Paula Abdul
44. Low (Nick Catchdubs Stoopit edit) – Flo Rida ft TPain
45. Doom's Night (Crookers Bum Remix)
46. Shake It To The Ground (Switch and Santogold Remix) – Blaqstarr
47. Shake It To The Ground (GRNDTHFT RMX) – Blaqstarr
48. Wet N Wild (Midnight Juggernauts remix) – KIM
49. What's It Gonna Be (acapella) – Busta Rhymes ft Janet Jackson
50. Ready For The Floor – Hot Chip
DOWNLOAD HERE ( chris rockwell – soul selectro july 2008.mp3 )
You can find Chris Rockwell Fridays and Saturdays at Cornerstone. On July 25, you can also catch him at Heaven Nightclub ( Facebook Group ) with Rob Solo, VH3, and Tim Foran. Also keep an eye out for an appearance behind the SoulSelecta decks in the not-too-distant future! Previous material and info on his comings and goings can be found on this blog at: http://soundslikephantom.blogspot.com/
If you're afterhours-oriented, check out Mista Rockwell as he joins J. Bradley and Rick Laplante at Sunrise on Saturday July 26th, after the bars (3am – ??) – 18+ w ID, $10 cover – Mavericks, 221 Rideau St.

Share on Facebook