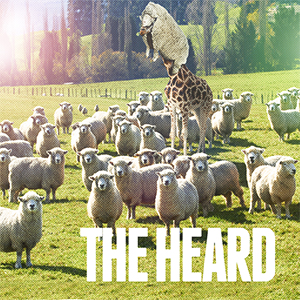 Top 40's music has never been my thing, and I've caught myself choosing to ignore it's existent at all costs.
Then, in the last 2 years, I couldn't help but notice how many elements of underground music (namely house, electro, dubstep) have been saturating top 40's hits. I then witnessed many of the Top 40's bar-stars – who had, for years, sneered at what those of us in the underground scene had been enjoying for years – now reacting to the same sounds as if they were some new, amazing discovery of which they were among the first to be privy to.
So I decided to have some fun and start collecting a few top 40's songs that were catchy, overplayed as hell, and easy to mix. The plan was to collect a bunch, and then throw something together for those who'd enjoy it – while proving to myself how self-evident putting together such a mix would be.
Plans changed.

I just couldn't bear playing the originals. I started exploring remixes of Top 40's songs, and then things really exploded.
What emerged was a mix packed full of some amazing remixes I found – many of which I just took chunks of one or two or three of and shuffled in with the originals. I've listened to it a few times through after finishing it, and have to admit that it's become a bit of a guilty pleasure. I could picture turning this into a volumed project, especially if it gets a good reception.
While I remind myself that my original goal as a DJ was to simply put mixes together that I'll enjoy listening to, I do love knowing if other people are tuning in, and if so what they're feeling. It'd be great to get some feedback on this one.
released: 2012-11-24
duration: 1:25
bpm: 130
track list:
01 :: Foster The People – Pumped Up Kicks 2011 (DJ LoKKo 'Dirty Dubstep' Remix)
02 :: Kid Cudi – Day 'N' Nite (crookers rmx)
03 :: Flo-Rida f. T-Pain – Low (nick catchdubs stoopit edit)
04 :: LMFAO – Sexy And I Know It
05 :: LMFAO – Sexy and I Know It (Mord Fustang Remix)
06 :: Soulja Boy – Crank Dat Soulja Boy (cousin cole rmx)
07 :: Duck Sauce – Barbara Streisand (O-God Remix)
08 :: Owl City & Carly Rae Jepsen – Good Time (Shahaf Moran Party Time Extended Mix)
09 :: Christina Aguilera – Your Body (ZROQ Remix)
10 :: Sean Paul (ft. Kelly Rowland) – How Deep Is Your Love (Riddler Remix)
11 :: Ke$ha – Die Young (Reidiculous Remix)
12 :: Flo Rida – Good Feeling (Jaywalker Remix)
13 :: Taio Cruz Ft. Flo Rida – Hangover
14 :: Flo Rida – Good Feeling
15 :: Black Eyed Peas – The Time (Dirty Bit)
16 :: Black Eyed Peas – The Time [The Dirty Bit] (Felguk Remix)
17 :: PSY – Gangnam Style
18 :: PSY – Gangnam Style (Mikael Wills REAL Bootleg)
19 :: LMFAO – Party Rock Anthem
20 :: LMFAO (feat Lauren Bennett & Goon Rock) – Party Rock Anthem (Benny Banassi Club Mix)
21 :: LMFAO (feat Lauren Bennett & Goon Rock) – Party Rock Anthem (Christopher Lawrence Club Mix)
22 :: Major Lazer feat. Vybz Kartel & Afrojack – Pon De Floor
23 :: Yolanda Be Cool Vs. DCUP – We No Speak Americano (Vhyce Remix)
24 :: Yolanda Be Cool Vs. DCUP – We No Speak Americano (Porter Robinson Remix)
25 :: Yolanda Be Cool Vs. DCUP – We No Speak Americano
26 :: Katy Perry – Wide Awake (Jump Smokers Extended Mix)
27 :: Katy Perry – Wide Awake (Dark Intensity Remix)
28 :: Enrique Iglesias ft. Sammy Adams – Finally Found You (R3hab & ZROQ Remix)
29 :: Martin Solveig & Dragonette – Hello (Made Famous Remix)
30 :: David Guetta ft Usher – Without You (R3hab's XS Remix)
31 :: Pink – Blow Me [One Last Kiss] (Gigi Barocco Bouncy Dirty Extended Mix)
32 :: Pink – Blow Me [One Last Kiss] (Gigi Barocco Battle Dirty Extended Mix)
31 :: Rihanna & Calvin Harris – We Found Love (R3hab Remix)

Share on Facebook