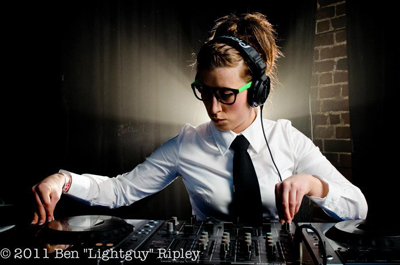 So this is the first Gabber set we've ever hosted – we have funk, jungle, dubstep, electro, minimal, psy trance, etc etc etc, but no Gabber. UNTIL NOW (cue the thunder and lightning just beyond the sparsely curtained window)
If you aren't familiar with DJ Sicatrix, she plays hard and fast and is one of the Ottawa rave scene's better kept secrets. Check out her facebook page, or better yet, come by Rush Delivery tonight and hear her play in the upstairs room from 9-10pm. I'll be playing jungle and hardcore right after her from 10-11pm.
In the mean time, grab her mix and give it a listen – I know Gabber isn't for everyone (I'm not the biggest fan myself), but it's a really tight mix and some of the selection will definitely appeal to the more jungle- and dubstep-oriented crew, seen?
Sicatrix – Masochistic Tendencies.mp3 (320kbps, 144mb, 61:40)
No tracklist for now, but I'll see if I can get one from her after this weekend. As always, please comment! We like comments.

Share on Facebook